Man cannot live by wine alone.
1270 NE BAKER STREET, MCMINNVILLE, OR 97128 • (503) 472-2841 • HOURS: 11:00am-7:00pm MONDAY-SATURDAY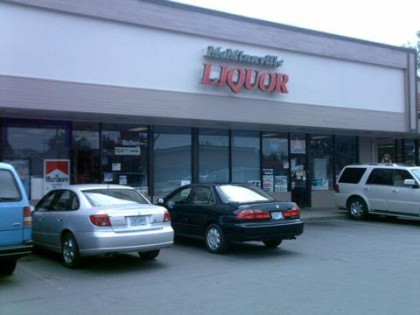 TALK TO AN EXPERT.
Whether you are from McMinnville, Lafayette, Amity or just drove in from the Oregon Coast, the knowledgable and friendly staff at McMinnville Liquor Store are here to help answer your questions. We don't know it all, but we can help you with your selection of Scotch, Vodka, Gin, Rum, Tequila, Bourbon or any other liquor, liqueur or distilled spirit we carry. We also have a large selection of cigars in our humidor, as well as a variety of cocktail mixes, barware, drink garnish and fun gifts! Be sure to ask if your favorite isn't on the shelf, and we will do our best to get it for you.
THIS MONTH'S SPECIALS!
Lots of your favorites are on the
OLCC Monthly Specials for June
, including Woodford Reserve, Lunazul Anejo Tequila, George Dickel #12, Beam's Choice, Bulleit 95 Rye, George Dickel #8, Wild Turkey 101 Pet, Seagrams V O, Canadian Club Small Batch, Cutty Sark Scotch, Dewars White Label, Johnnie Walker Blk Label, Wm. Grant's Blended Scotch, Famous Grouse Scotch, Glenlivet Scotch, Chivas Regal Scotch, Speyburn Single Malt Sc, Bushmills Irish Whiskey, Jameson Irish Whiskey, Tullamore Dew, Remy Martin Vsop, Korbel Gold Reserve Vsop, Capt. Morgan Spiced Rum, Temperance Trader, Capt. Morgan Spiced Lt. W, Hendrick's Gin, Tanqueray English Gin, Smirnoff Vodka 100, Luksusowa Vodka, Stolichnaya Vodka, Southern Comfort, Kahlua Coffee Liqueur, 1800 Reposado Tequila, Baileys Irish Cream, Tarantula Azul, Disaronno Amaretto, Frangelico, Tequila Rose, Harlequin Orange Liqueur, 1800 Coconut Tequila, Grand Monarch, Malibu Rum, 1800 Reposado W/Pomegr Mix, 1800 Silver W/Pomegr Mix, Mt. Gay Dark Eclipse Rum, Presidente Brandy, Ketel One Vodka, Glenlivet French Oak, Macallan Scotch 12 Yr, Glenmorangie 10 Yr Scotch, Hussongs Tequila Reposado, Makers Mark, Knob Creek Bourbon, Highland Park Single Malt, Wild Turkey Bourbon 101, Ketel One Citroen Vodka, Dewars Special Reserve, Remy Martin Vs Grand Cru, Sailor Jerry Spiced Rum, 1800 Silver Tequila, Bailey's Chocolate Mint, Bailey's Caramel, Tarantula Reposado Tequila, Aberlour 12 Yr Single Malt, Ullr Schnapps, Kahlua Hazelnut Liqueur, Kahlua French Vanilla Liq, Kraken Black Spiced Rum, Bailey's Coffee, Gran Centenario Tenampa Az, Tanqueray Rangpur Gin, Kahlua Mocha, Balvenie Doublewood, Glenfiddich 12 Yr., C.M. Parrot Bay Coconut 90, Ketel One Oranje and Bulleit Bourbon Frontier.
DRAWINGS!
We have frequent drawings in the store for merchandise from our product reps. Make sure to enter when you come by! No purchase necessary to enter.